The current trend relating to make up has moved slightly away from heavy contour at the moment, to highlighting.
When I first heard of this was last year approaching my 21st birthday, the make-up artist said to me "I'm just gonna highlight the areas you want to accentuate."
I'm not going to lie, I did have visions of me walking into my party with bright yellow highlighter all over my face… but little did I know that a small amount of highlighter can make your make-up really pop.
I've used YSL, Benefit, Mac and Sephora's, Rimmel and many many more highlighters.
These have varied in the form of  liquids to powders and here is what I thought of them:
This is Sephora's own brand called Beauty Amplifier Afterglow Primer & Luminizer. It cost me $16 in the US, but Sephora now deliver to the UK! YAY! This highlighter can be used as a primer before you apply your foundation or you could strobe with this once you've applied all your make up. It is very subtle and it was relatively cheap when you take into account the $-£ rate.
 This is Mac's Mineralize Skinfinish is shade "Soft and Gentle". It cost £24 and comes in different shades which is useful as every skin-tone can find the perfect highlighter to suit them. I love this highlighter as it's so shimmery when the light hits you and it's easy to use. Unlike gels or sticks, there's no mess as it's in powder form. I find that when I use this produce it's very full – so I save this for nights out as I find it too much for an everyday look.
 This is Benefit's High Beam and costs £19.50. I bought this product by accident thinking it was something else, and I wasn't impressed. It looks like nail varnish for starters and I just found it awkward to use. It comes with a brush that's in the lid (like nail varnish!) and I used this at first to dab onto my brow bones, cupids bow and cheeks and as soon as I applied the product it set straight away meaning I had little dots or lines that wouldn't blend. I used a sponge and got the same results even when working quick. Overall I wasn't impressed and for nearly £20 it's a lot to spend on a product that isn't working well.
This is The Balm's Mary-Lou Manizer (AKA The Luminizer) and costs £20. I LOVE this product. A little goes a long way and the pigment is unreal. It gives skin such a fresh glow. I find the product goes on smoothly no matter what foundation I'm wearing (as sometimes if I wear powder foundation and apply powder highlighter is gets cakey) and it gives a soft shimmer but when in the light BOOM  – it looks amazing! It's not as expensive as others I've tried and I think this is by far the best. All the reviews on feelunique.co.uk are good as well – so if you don't believe me then have a look!
 I've already review this product, but it's Yves Saint Laurent's Eclat Touche and costs £25. I love this as a highlighter and also as a concealer. It's very subtle and light-weight so looks great on the skin as it doesn't look heavy or cakey. I prefer this as a concealer though over a highlighter, but I do use this as a highlighter when I go to work as it just gives you a healthy glow and makes you look flawless and not tired – "Look I went straight home after work Thursday and didn't do 6 shots and get in at 2am and up at 6am";)
 This is Rimmel's Good To Glow highlighter and costs around £4.99. It comes in different shades and is buildable – meaning you have to keep applying if you want a heavier look. Honestly I got given this to try and for £5 it's so worth having. I wouldn't use this everyday as it is very liquidy but it's great to keep in your make-up bag and my sisters in uni and uses this as it's cheap and does the job!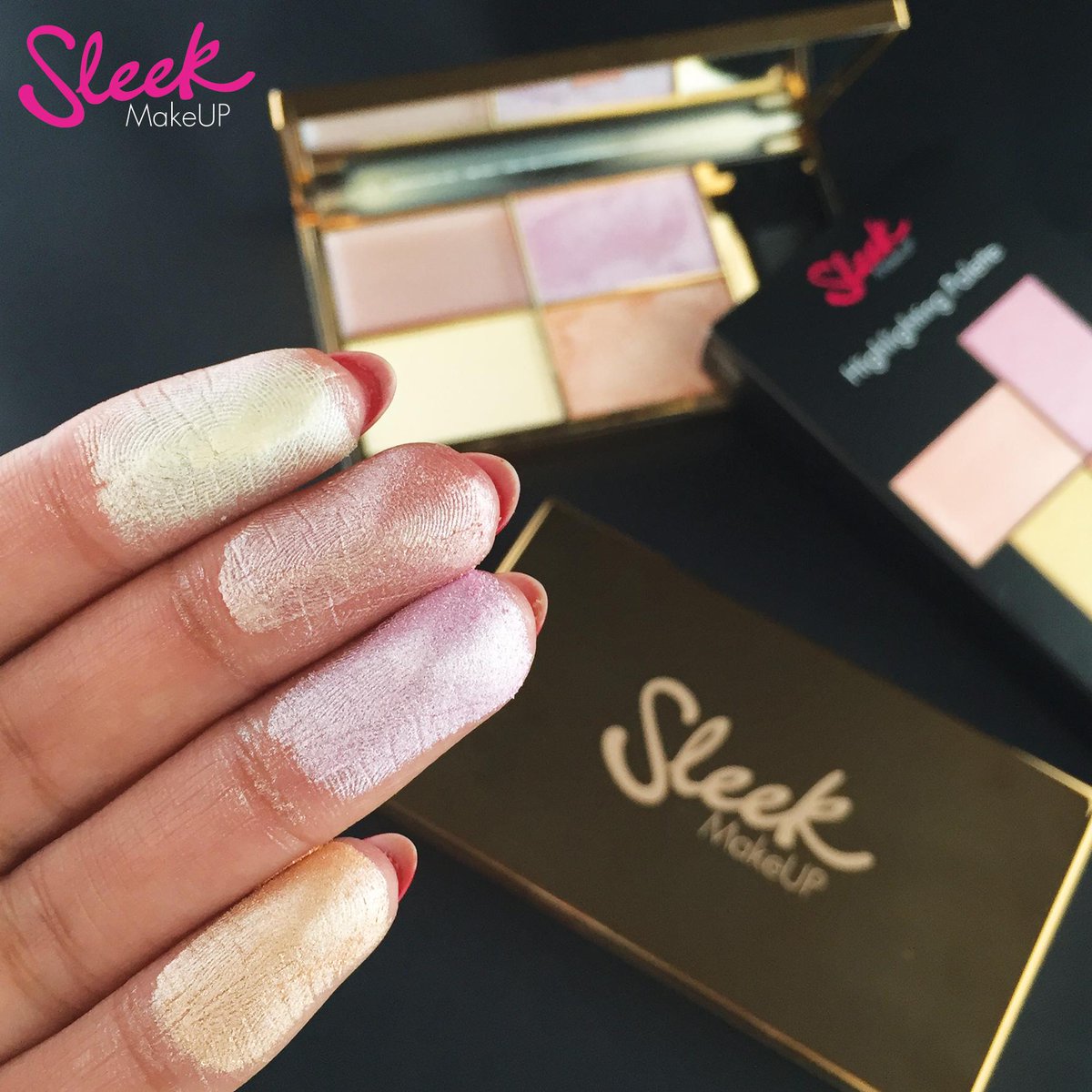 This is Sleek's MakeUp Solstice Highlighting Palette and costs £9.99. I absolutely adore this palette, it's so cheap and you get 4 different shades included. The pigments are great and a little product goes a long way. There's one cream highlighter and 3 powders. The pink and purple ones are my favourite and these last all day. I applied this to my make-up just after 7am and when I got in that night at 9pm I still had a shimmer. It's such a great product and I've told everyone to get this – I was really impressed!
Yes my make-up is now mostly made up of highlighters, but my favourites out of the ones I've tried above have to be The Balm's for £20 and also Sleek's for £9.99. These two are so highly pigmented and both last all day – so you have one slightly expensive product and another that isn't 🙂
Let me know what highlighter you're loving at the moment and if you have any beauty tips.
Lou-lou London xox